Apr
19
Mon
Homecare and Long-Term Care: Tensions and Possibilities
Apr 19 @ 1:00 pm – 3:00 pm
Join us for a joint book launch and panel discussion of The Privatization of Care: The Case of Nursing Homes, edited by Pat Armstrong and Hugh Armstrong (Routledge) and Home Care Fault Lines: Understanding Tensions and Creating Alliances by Cynthia Cranford (ILR Press).
Monday, April 19, 2021
1:00 pm - 3:00 pm ET
Panelists
Pat Armstrong is a Distinguished Research Professor of Sociology at York University. She held a CHSRF/CIHR Chair in Health Services and Nursing Research, and has published on a wide variety of issues related to long-term care, health care policy, and women's health.
Cynthia Cranford is an Associate Professor of Sociology at the University of Toronto. Her recent research compares the social organization of in-home personal care and support – the bodywork, emotion-work and housework that allows elderly, chronically ill and disabled people to live at home – across different contexts.
Mary Gellatly is community legal worker in the Workers' Rights Division at Parkdale Community Legal Services (PCLS) in Toronto. Mary is a clinical instructor for the PCLS intensive poverty law program in partnership with Osgoode Hall Law School. She has over 25 years of experience in the area of workers' rights and migrant workers' rights. She was one of the co-founders of the Workers' Action Centre and Caregivers' Action Centre.
Anil Naidoo is a National Representative at the National Union of Public and General Employees (NUPGE). He is on the board of the Canadian Health Coalition and is co-chair of the Canadian Health Professionals Secretariat. Over the past two decades, Anil has been involved with many campaigns in support of strengthening and improving public health care in Canada.
Chair
Leah F. Vosko is Professor of Political Science and Canada Research Chair (Tier 1) in the Political Economy of Gender & Work at York University and the academic research lead on Closing the Enforcement Gap. Her research focuses on precarious employment, employment standards enforcement, and temporary labour migration. She also oversees the collaborative Gender and Work Database, Comparative Perspectives on Precarious Employment Database, and forthcoming Employment Standards Database projects as well as the Canada Labour Code-Data Analysis Infrastructure, which investigates employment standards enforcement in the federal jurisdiction.
Apr
23
Fri
Embodying Care: Care Work and COVID-19
Apr 23 @ 11:00 am – 12:30 pm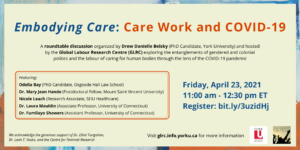 Join us for a roundtable discussion on Embodying Care: Care Work and COVID-19, organized by Drew Danielle Belsky (PhD Candidate, York University). This virtual panel invites presenters and participants to explore the entanglements of gendered and colonial politics and the labour of caring for human bodies through the lens of the COVID-19 pandemic.
Friday, April 23, 2021 
11:00 am – 12:30 pm ET 
Panelists
Odelia Bay (PhD Candidate, Osgoode Hall Law School)
Nicole Leach (Research Associate, SEIU Healthcare)
Dr. Laura Mauldin (Associate Professor, University of Connecticut)
Dr. Fumilayo Showers (Assistant Professor, University of Connecticut)

Discussant 
Dr. Mary Jean Hande (Postdoctoral Fellow, Mount Saint Vincent University)
Event Description
Since the emergence of the novel Coronavirus designated SARS-COV-2, those whose labour is "essential" to the maintenance of others' lives have put their bodies on the line, navigating heightened physical and emotional risks in order to ensure bodily needs like food and medical care are met. Despite shifts to online work for some, the majority of employment worldwide continues to require the physical presence of labouring bodies, in particular the work of caring for bodies and human well-being. As Rayna Rapp asserts, the "gives and takes of caring for/ being cared for [are] always already woven into the fabric of human sociality" (2020, p. 255). The pandemic has not only strained already fragile infrastructures of care to a breaking point, it has made clear the degree to which contemporary economic and social structures depend upon vast amounts of unpaid and low-paid care work. From long-term care and home care to disability support work and childcare, this work is disproportionately performed by women, immigrants, and racialized people. Job losses, housing and mental health crises, and rates of infection and mortality amongst workers in unpaid or low-paid but "essential" roles provide a map of structural inequalities grounded in embodied relations of care. Gaps in labour policy – from insufficient sick leave, caregiving, and disability protections to mounting workplace health and safety concerns – mean that many caregivers and disabled or medically vulnerable workers have been forced to choose between economic and physical survival. As a result, these already strained and marginalized demographics have been pushed even further into economic precarity. At the same time, both heightened awareness of the interdependencies of these infrastructures and changing models of sociality have opened up new possibilities for imagining and enabling a more accessible and equitable world.
In response to the complex and multifarious histories of feminist engagements with 'care,' Michelle Murphy (2015) builds a case for "unsettling care."  Murphy argues for unsettling as an explicitly anti-colonial and anti-racist project that entails "the purposeful undoing and troubling of particular arrangements so that they might be acknowledged and remade in better, less violent, more livable ways' (2015: 722). As vaccines begin to circulate, it is more important than ever for both scholars and activists to consider not only what a return to "normal" might mean for care and caregiving in Canada and throughout the world, but also what possibilities exist for doing care differently. From long-term disablement to prolonged economic instability and mounting social inequalities, the long-term effects of the pandemic on both individual bodies and on the social body remain uncertain. What lessons can be learned and what possibilities exist for constructing a more caring and care-full future?
Access & Accommodations 
This event will take place using Zoom with live captioning. A transcript and video/audio recording will be available after the event. We will also provide digital copies of opening remarks and audio description of any visual materials. If you would like to take part but require accommodations not listed here, please do not hesitate to contact us so that we can take the necessary steps to ensure your ability to participate.
We gratefully acknowledge the generous support of Dr. Ethel Tungohan, Dr. Leah F. Vosko, and the Centre for Feminist Studies.