Watch for a new and interactive website for this research coming soon.
A research study by James Chowhan and Kelly Pike in partnership with CHUSS.
Printable Infographic   Short Report   Long Report
Why and how we conducted this research
Purpose of the Research: The goal of this project is to investigate the impact of current working arrangements at York University (among academic and administrative staff), arising from adaptations to the COVID-19 pandemic.
Acknowledgements
This report is based on findings from a survey conducted at York University in August/September 2020.  This study is a part of the COVID Homeworking for University Staff Survey (CHUSS) project. The CHUSS is an international research collaboration (including researchers at 14 universities – seven in Australia and seven in Canada) looking into the impact of the COVID-19 pandemic on the working arrangements of faculty and staff at universities, and it is led by Dr. David Peetz at Griffith University, Australia. Thus, original survey was designed and led by Professor Emeritus David Peetz and Professor Emeritus Glenda Strachan at Griffith University in Australia, then adapted slightly for the Canadian context, and administered at a total of seven universities in Australia and seven universities in Canada. The local research at York was led by Assistant Professor Kelly Pike, School of Human Resource Management, on behalf of the Global Labour Research Centre. Quantitative data analysis is being led by Assistant Professor James Chowhan, School of Human Resource Management. This research has received ethics review and approval by the Human Participants Review Sub-Committee, York University's Ethics Review Board and conforms to the standards of the Canadian Tri-Council Research Ethics guidelines.
The authors are grateful to GLRC Director Luann Good Gingrich for her guidance and ongoing support of the project, as well as to Andrew Mitchell for support with initial data management and analytics.
Further, the authors are thankful for the following graphic and information design contributions: poster by Ingrid Wong (BDes '23); website by Sean Reibling (BDes '23) with guidance from Professor Angela Norwood and Lucy Bilson (BDes '16, MDes '20) in the Department of Design/AMPD.
This report represents the views of the authors and does not necessarily reflect the opinions of York University.
More information about the "COVID-19 Home-working by university staff survey" is available on the project home page.
Data Quality
It is important to note that while the cross-tabulations in this report enable rich comparisons across many characteristics of interest, these results are based on a survey that used voluntary participation. Thus, non-sampling errors (e.g. coverage and nonresponse) may impact the quality of the results; especially, if different sub-groups of the population are systematically underrepresented in the sample.
Research Methods
This report is based on a cross-sectional survey of York University all staff as a part of larger project being conducted across 11 universities in Australia and Canada. The survey entitled "Impact of COVID-19 work at home on York University staff" was collected in August and September of 2020. The survey was sent to all faculty and all staff using email distribution lists; thus, both academic and other university staff received email notifications regarding the survey. A follow up reminder email was sent about two weeks after the first invitation to participate in the survey. Staff were asked to complete an online survey taking approximately 10-15 minutes to complete. The email invitation to participate in the survey identified potential risks and discomforts (e.g. related anxiety or trauma) that may be associated with participation, and the benefits of the research and the benefits to the participants were also identified (e.g. the findings can enable York University to address issues or concerns around the effects of working arrangements arising from COVID-19). Participation in the survey was voluntary, and participants could withdraw from the survey at any time. A total of 1,292 faculty and staff participated in the survey. In addition to the confidentiality protocol taken during the collection of the data (e.g. secure data management and anonymization of the data records), in this report, care has been taken to ensure individual information and responses are not revealed through the reporting of the findings. For this report, cross-tabulations are the main analyses that are used to develop estimates that enable a comparison of outcomes across individual characteristics and work factors. With regard to individual characteristics the full report focuses on the following: job role, gender, age, Indigenous, visible minority, immigrant status, activity limitation, and care responsibilities, while the short report focuses on job role and gender. The work factors of interest are the following: preferred arrangement of work; how work arrangements changed; personal experiences and satisfaction; and work expectations, work-space, and work environment.
Sample Statistics of Individual Characteristics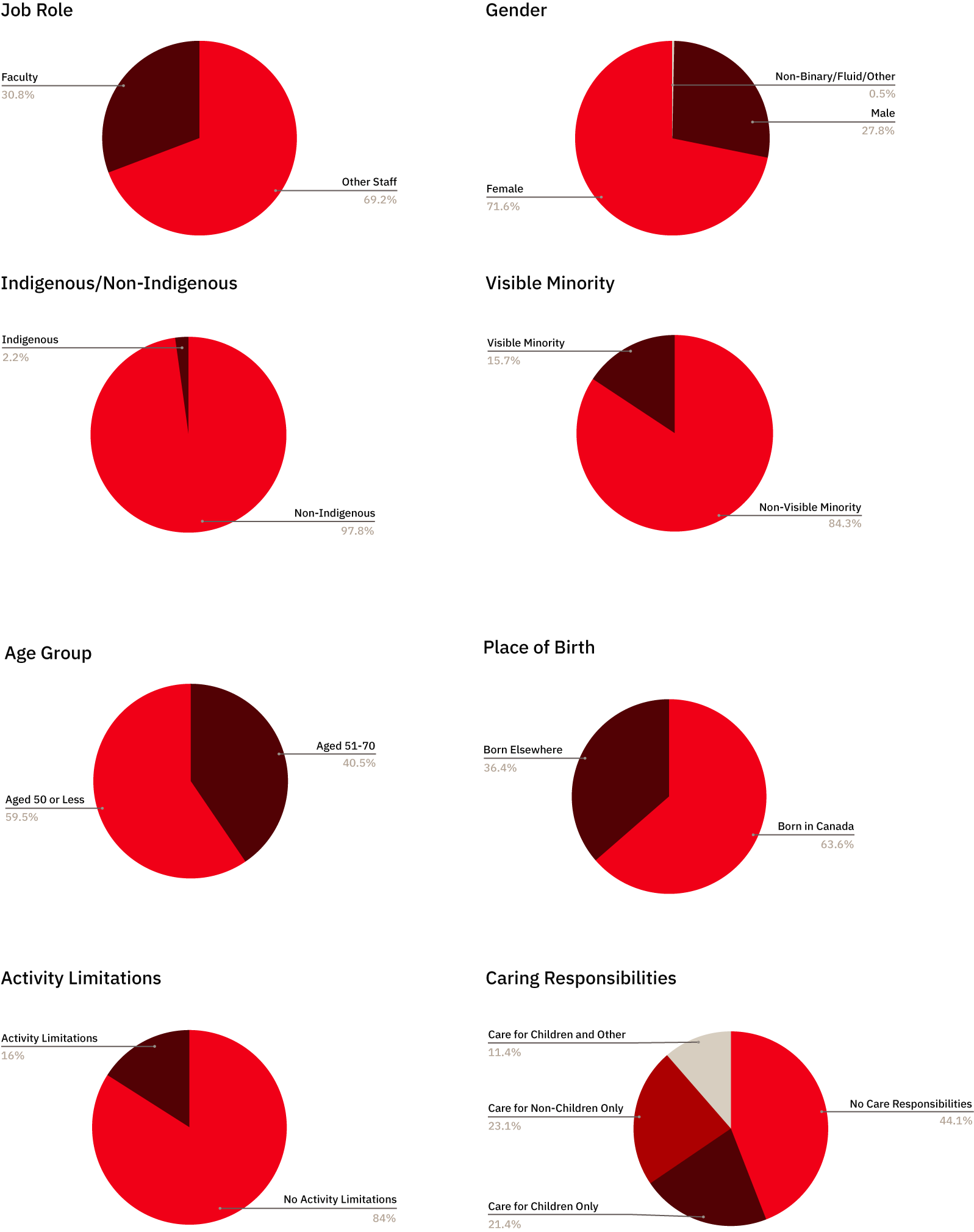 ---
Preferred Arrangement of Work
The findings from these tables show that the working preference of the majority of staff at York University is to split their time between the office and home after the pandemic. This contrasts with the practices of staff before the pandemic, where nearly all other staff and most faculty reported working at the university before the pandemic.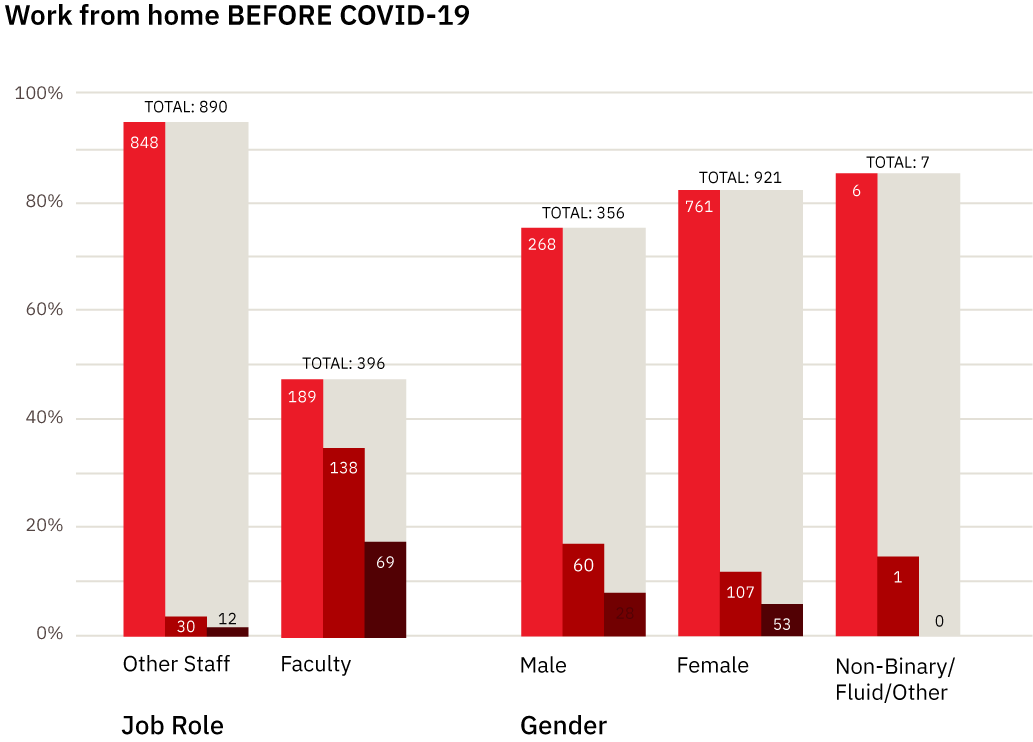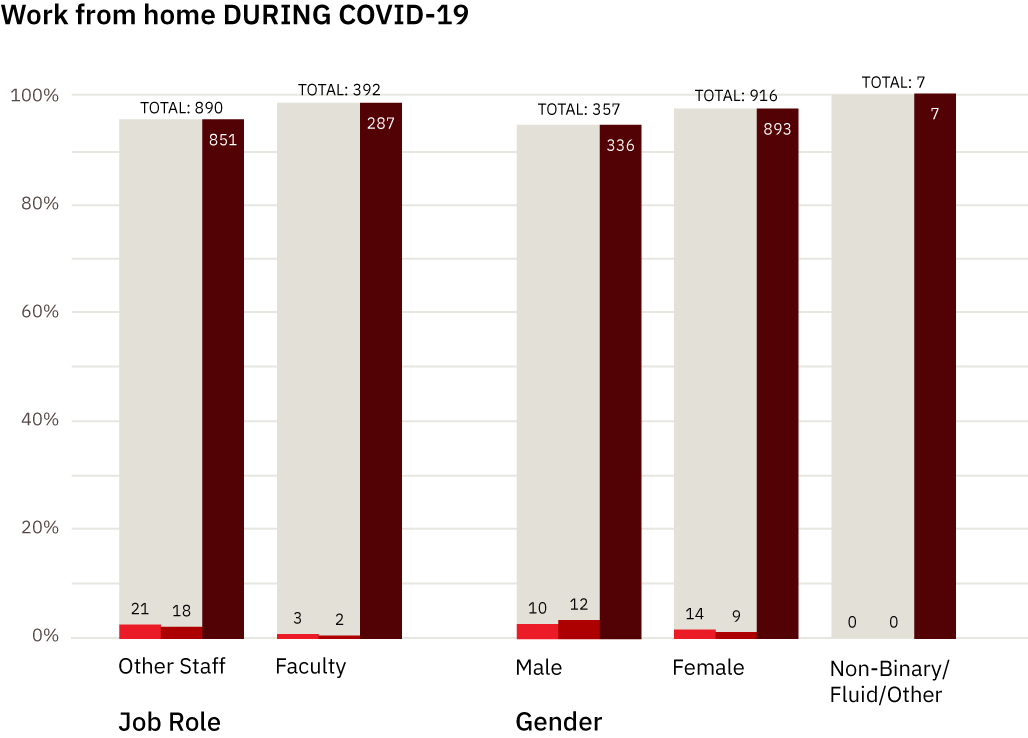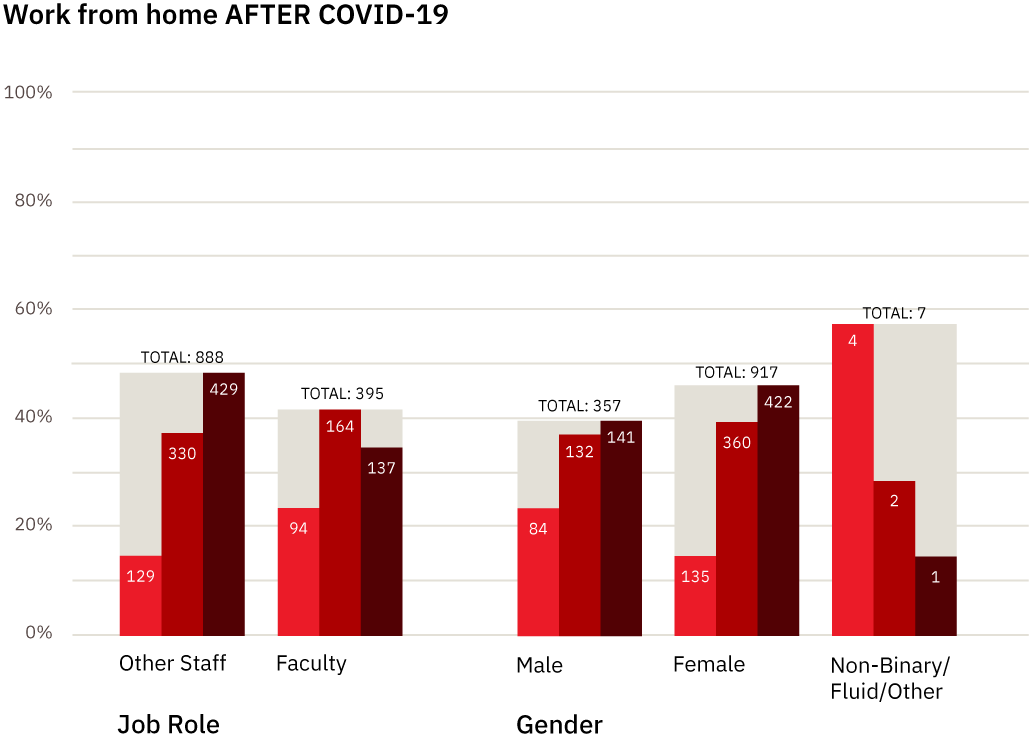 ---
How Work Arrangements Have Changed

This graph shows the changes in paid work hours that York University employees have experienced during the COVID-19 pandemic. The data suggests that the majority of staff have been unaffected, meaning paid work hours have stayed the same, while smaller proportions have experienced increases.

This chart shows the difference in hours spent on work as a result of the pandemic. Overall, the majority of York University employees indicated that despite their unchanged paid work hours (see the previous chart), most have found an increase in time spent on work.

This chart shows the changes in employee's clarity of their work expectations. The data suggests a sizeable decrease in work expectation clarity after the transition to work from home and experienced over the course of the COVID-19 pandemic.  Relatively smaller proportions of employees experienced an increase in work expectations clarity.

This chart illustrates the difference in daily productivity after transitioning to work from home practices at York University. The results suggest that there were substantive differences, both for job role and gender categories.  It is interesting to note that the majority of faculty noticed a decrease in daily productivity while other staff noticed a significant increase.  Further, a plurality of males identified decreases in personal daily productivity, while for females a plurality identified increases.

This chart depicts the difference in employee perceived quality of work during COVID-19. When comparing job role categories, it is interesting to note that for both faculty and other staff the majority staying the same; nonetheless, substantive proportions of faculty did report a decrease while other staff reported an increase in quality of work given the new working conditions.
---
Personal Experiences During COVID-19
This section examines the personal experiences of York University employees that are related to their well-being related to work during the pandemic. The results indicate an overall decrease in job satisfaction occurred, while a very substantive increase in stress was experienced. Further, large proportions of employees' report an increase in work interference with personal life. The pathway of relationships is typically considered to flow from work Interference with personal life to stress, and from stress to job satisfaction outcomes.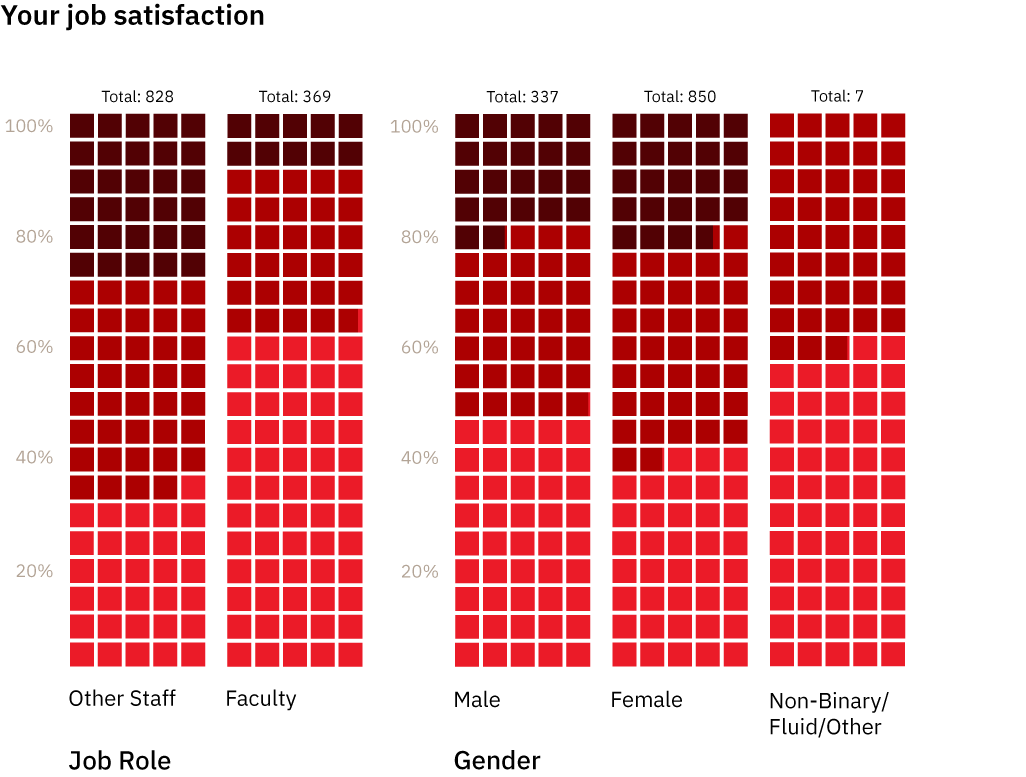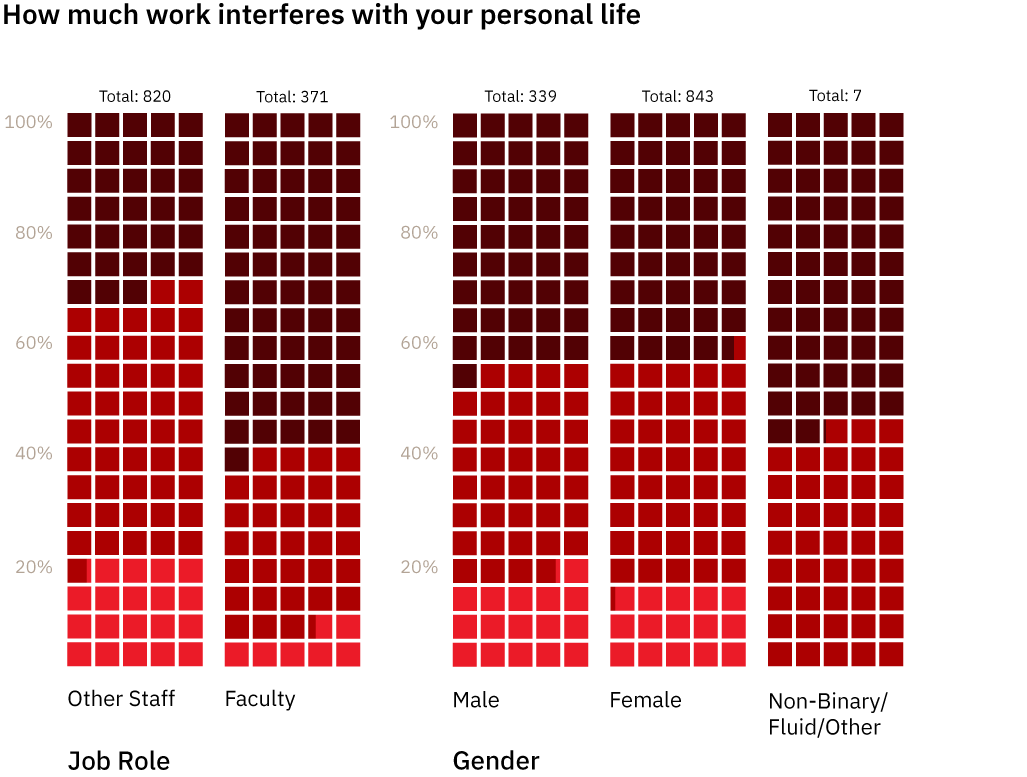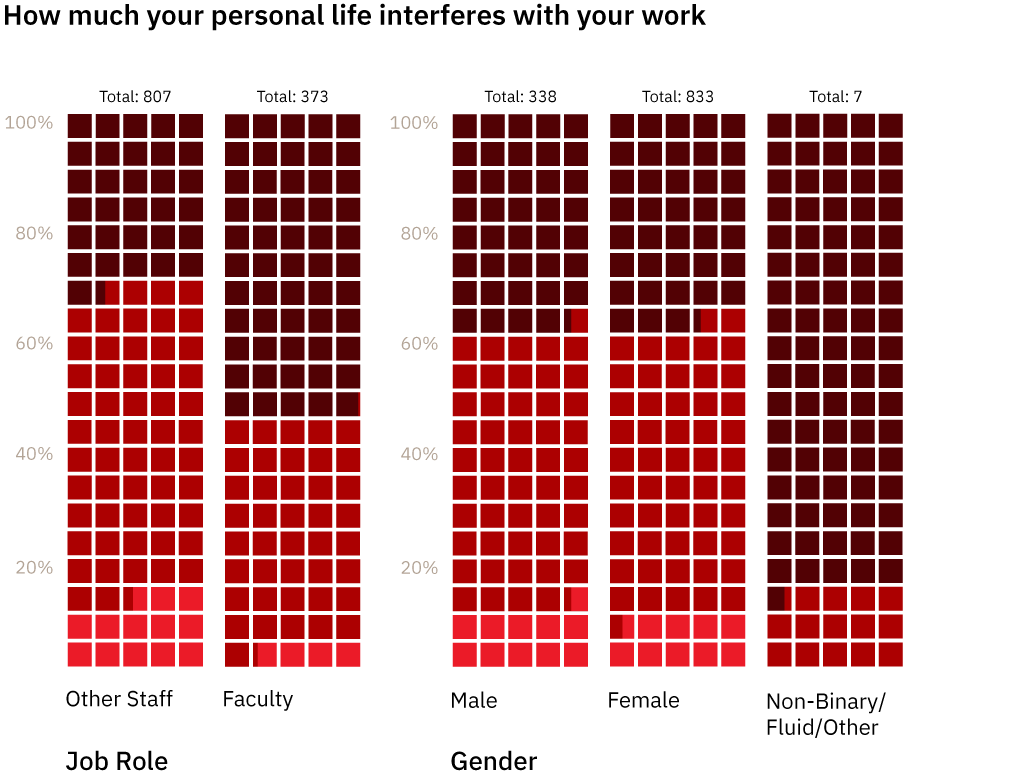 ---
Expectations, Work-Space, and Environment


These graphs show employees perceptions of job expectations.  The majority of York University employees agree when asked whether expectations in their role were clear. These findings are generally consistent across other staff, faculty, male and female employees, while Non-Binary/Fluid/Other employees generally report disagreement with this statement (however, it is important to note that this finding could be impacted by the low number of respondents).

This chart illustrates the opinion of York University employees when asked whether adequate support was provided to make remote work possible. The majority of other staff agreed, while faculty were more mixed on the issue with a substantive proportion disagreeing. Male and female respondents largely agreed while Non-Binary/Fluid/Other were more skewed toward disagreeing.
This chart illustrates the opinion of York University employees when asked whether their workload felt manageable to them. The results differ substantively between other staff and faculty with other staff having a high proportion of agree, while faculty have a high proportion of disagree. For the gender categories, the results were very similar across each category, with large proportions agreeing with the statement.
This chart shows the degree to which York University employees think about work during non-work hours. The vast majority of employees indicate that they think about work during their non-work hours.  These results are consistent across job roles and gender.  This potentially suggests employees are having challenges separating work and personal life while working from home.