When:
October 14, 2021 – October 16, 2021
all-day
2021-10-14T00:00:00-04:00
2021-10-17T00:00:00-04:00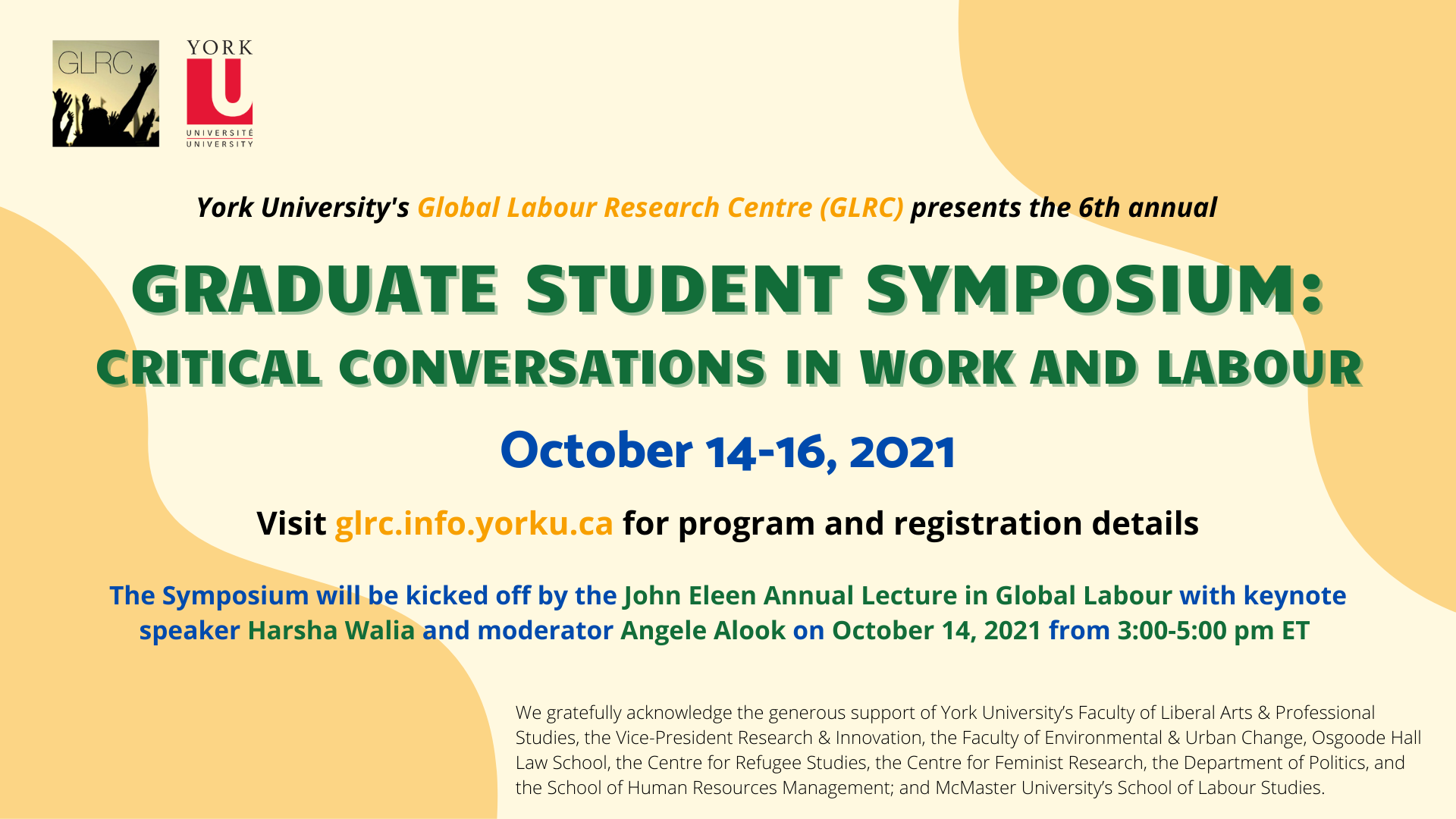 The Global Labour Research Centre is pleased to announce the 2021 Graduate Student Symposium: Critical Conversations in Work and Labour. Building on the tradition of GLRC annual conferences, this online series is designed to promote the scholarship of graduate students and postdoctoral fellows. Our goal is to create a series reflective of the wide range of themes and methodological and theoretical approaches pertaining to the study of work and labour.
Thursday, October 14 - Saturday, October 16, 2021
Concurrent sessions running at 11:00 am - 12:30 pm and 12:45 pm - 2:15 pm ET
The Symposium will be kicked off by the John Eleen Annual Lecture in Global Labour with keynote speaker Harsha Walia and moderator Angele Alook on October 14, 2021 from 3:00-5:00 pm ET.
You can find presentation recordings of last year's graduate student symposium, New Voices in Work & Labour Studies, on our YouTube channel.
We gratefully acknowledge the generous support of York University's Faculty of Liberal Arts & Professional Studies, the Vice-President Research & Innovation, the Faculty of Environmental & Urban Change, Osgoode Hall Law School, the Centre for Refugee Studies, the Centre for Feminist Research, the Department of Politics, and the School of Human Resources Management; and McMaster University's School of Labour Studies.