When:
October 14, 2021 @ 3:00 pm – 5:00 pm
2021-10-14T15:00:00-04:00
2021-10-14T17:00:00-04:00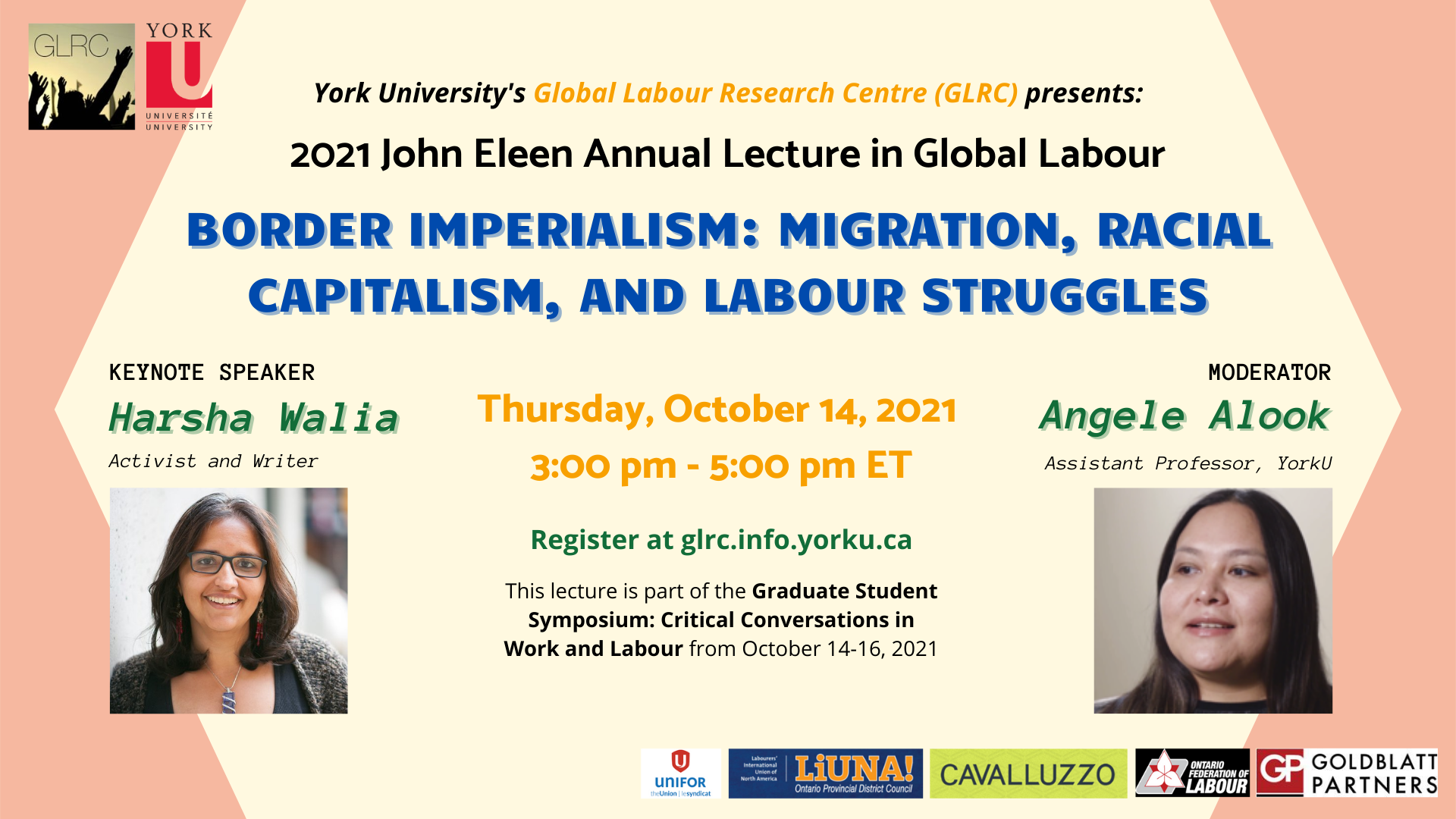 The GLRC is pleased to present the 2021 John Eleen Annual Lecture in Global Labour, Border Imperialism: Migration, Racial Capitalism, and Labour Struggles, with keynote speaker Harsha Walia (Activist and Writer) and moderator Angele Alook (Assistant Professor, York University).
This lecture is part of our 2021 Graduate Student Symposium: Critical Conversations in Work and Labour.
Harsha Walia is an activist and writer based in Vancouver, British Columbia, Canada. She is known for her organizing work with No One Is Illegal, the February 14th Women's Memorial March Committee, the Downtown Eastside Women's Centre, and several Downtown Eastside housing justice coalitions. Walia has been active in migrant justice, Indigenous solidarity, feminist, anti-racist, and anti-capitalist movements for over a decade. Walia is the author of Border and Rule: Global Migration, Capitalism, and the Rise of Racist Nationalism (2021) and Undoing Border Imperialism (2013); and the co-author of Red Women Rising: Indigenous Women Survivors in Vancouver's Downtown Eastside (2019) and Never Home: Legislating Discrimination in Canadian Immigration (2015).
Dr. Angele Alook is an Assistant Professor in the School of Gender, Sexuality and Women's Studies at York University. As a member of Bigstone Cree Nation in Treaty 8 territory, her research has mainly focused on the political economy of oil and gas in Alberta. She specializes in Indigenous feminisms, life course approaches, Indigenous research methodologies, cultural identity, and the sociology of family and work. She is a co-investigator on the SSHRC-funded (Partnership Grant) Corporate Mapping Project, where she completed research with the Parkland Institute on Indigenous experiences in Alberta's oil industry and its gendered impact on working families. Angele is also a member of the Just Powers research team, a SSHRC-funded Insight Grant.
The John Eleen Annual Lecture in Global Labour is an initiative of the Global Labour Research Centre and is co-sponsored by the Ontario Federation of Labour, UNIFOR, LIUNA Ontario Provincial District Council, Goldblatt Partners LLP, and Cavaluzzo LLP.