When:
October 8, 2020 @ 5:00 pm – 6:30 pm
2020-10-08T17:00:00-04:00
2020-10-08T18:30:00-04:00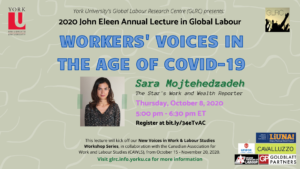 [Click image to enlarge]
Will COVID-19 change workplace power dynamics forever? In the 2020 John Eleen Annual Lecture on Global Labour, Sara Mojtehedzadeh will examine what the pandemic has shown us about the role of workplaces and workers' voices in creating a safe and healthy society. The talk will highlight stories from different sectors impacted by the pandemic and look at underlying commonalities. It will examine how authorities—and the public—responded, what gaps in protection remain, and where openings for change exist. 
Register to receive the Zoom link
This lecture will take place virtually and is open to all.

Sara Mojtehedzadeh is the Star's Work and Wealth reporter. Sara reports on the changing workplace, including precarious work, labour issues, and workers' compensation. Previously, Sara worked for the BBC World Service. Her work at the Star has been recognized by the Hillman Foundation prize for social-justice oriented investigative journalism, Journalists for Human Rights, and the Michener Awards.
This lecture will kick off our New Voices in Work & Labour Studies Workshop Series, in collaboration with the Canadian Association for Work and Labour Studies (CAWLS), from October 15 - November 12, 2020.
The John Eleen Annual Lecture in Global Labour is an initiative of the Global Labour Research Centre and is co-sponsored by the Ontario Federation of Labour, UNIFOR, LIUNA Ontario Provincial District Council, Goldblatt Partners LLP, and Cavaluzzo LLP.