When:
October 15, 2020 – November 12, 2020
all-day
2020-10-15T00:00:00-04:00
2020-11-13T00:00:00-05:00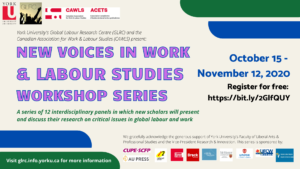 [Click image to enlarge]
We are excited to announce the Global Labour Research Centre (GLRC) has collaborated with the Canadian Association for Work and Labour Studies (CAWLS) for the New Voices in Work & Labour Studies Workshop Series, a weekly online workshop series of 12 interdisciplinary panels that will take place on selected days from October 15 to November 12, 2020.
Building on the GLRC's annual Graduate Student Symposium and the New Voices in Work and Labour Studies stream of the annual CAWLS conference, this online series is designed to promote the scholarship of new scholars (graduate students, post-doctoral fellows, and faculty/researchers in the first five years of their appointment), reflective of the wide range of themes and methodological and theoretical approaches pertaining to the study of work and labour. Given the unprecedented hardship presented by the COVID-19 pandemic, we hope that this series can mitigate some of the isolation we are experiencing and offer a space of encounter for emerging scholars to come together and think through their work.
We also hope you'll join us for the John Eleen Annual Lecture in Global Labour, featuring Toronto Star reporter Sara Mojtehedzadeh, which will kickstart our workshop series on Thursday, October 8, 2020 at 5:00 pm ET.
This series is free and open to all. Please note that while you may register for the session(s) you are interested in, the Zoom link is the same for all 12 sessions (i.e. if you register for one session, you can access any of them).
We gratefully acknowledge the generous support of York University's Faculty of Liberal Arts & Professional Studies and the Vice-President Research & Innovation. This series is sponsored by YorkU's Faculty of Environmental and Urban Change, Osgoode Hall Law School, Athabasca University Press; the Canadian Labour Congress; the Canadian Union of Public Employees; the Department of Labour Studies, Brock University; the Labour Studies Program, Simon Fraser University; the National Union of Public and General Employees; the Ontario English Catholic Teachers' Association; the School of Labour Studies, McMaster University; UNIFOR; and the United Food and Commercial Workers.